Thank you for contacting Navco Construction, a representative will contact you shortly.
Thank you for contacting Navco Construction, a representative will contact you shortly.

Bill Patey
If you go with Navco you go with the best. Even better you meet the president, Edgar Navarro, with whom it is a delight to deal. My first meeting with him was remarkable: he arrived on time. As time went on I learned he always does. the contract I signed was meticulous, the time to build accurate, and the estimate met.

The roof on my house is a tar and gravel job, not the easiest to replace. The garage at the back, some sort of manufactured shingle, once covered with moss. I have been in the house for 51 years under a variety of roofs with varying abilities to leak not.

one morning Navco arrived, in uniform, and on time on the only day in a two-week spell without rain. By dark the job was done. They were swift, careful, professional (no fighting over the flamethrower), and quiet. I am an old geezer. I won't see another roof. These guys are amazing and they clean up after them. Everything, my one regret is my failure to have Edgar teach me weather forecasting.

Go with Navco! No worries.
Brad Leaney
Hello Edgar! I think you guys are great. I was super impressed howeverything was cleaned up at the end of each day. I will go out of my wayto refer your company to my friends, family as well as all my clients.Awesome job!
Ray
New Roof, Siding, Soffit, and Gutters - Total Transformation!We are ecstatic with the service and quality products and craftsmanshipthat Navco Construction provided to restore our old house, built in the50's, to like NEW again. Don't be fooled by (owner) Edgar's low-keyunassuming nature and virtually no pressure sales tactics - he is a masterof his craft, who is up to date with the latest trends and technologies andknows how to apply them to his construction business - we were lucky tofind him. Alejandro, assigned to our project kept us well-informed ensuringeverything was on schedule and that we were happy every step of the way.All his men worked long hard hours and were polite and addressed all ourconcerns. First was the new roof (with ridge vents) and fascia boards, thenthe vinyl soffit to replace the falling rock dash stucco soffit... plusthe new wood siding to replace the old rotted siding (Antonio did afantastic job here), and finally the new gutters. There was a slight issuewith one of the fascia boards and the gutters, but this was correctedimmediately the next day. This company is busy and I would not hesitate inrecommending this "one stop shop" company for all your roofing needs andmore. Our old house was totally transformed!
Pat and Gordon Laderoute, Port Coquitlam
Alejandro and Edgar were amazing in their prompt visit to our home afterour initial phone call. Started our cedar roof demolition two days later.Was amazed to watched the team work so quickly and dare I say, quietly andrespectfully. We had watched other teams in our neighbourhood and were notimpressed and were somewhat hesitant to get our roof done. However, afamily of woodpeckers (5) quickly changed our minds (ours was the onlyhouse left with cedar roofing). We also had new gutters finished, facia anddrains put in at the same time, all through Navco. I can't speak any morehighly of them and their work ethic than saying I'd have them back in aheartbeat! Actually, we did just that. We had our house siding (vinyl)completely removed and the home wrapped and Hardie board put up. Was alittle longer in doing as we went away for a vacation and the work had towait till we got back as new windows were involved and with no one home,work had to wait. But eventually it all came together! They did thecontract work for new windows in the back of the house and removed asliding back door for new French doors, and a new front door as well. Wehad a lot of questions going back and forth but the brothers were alwaysquick in responding and turning up daily while the jobs were being done.All in all, a tremendous job was done, all started and completed last year.Thank you boys for a job VERY well done. We have recommended them toeveryone we know, whether or not they need the services......VERY HIGH isthe highest rating in on line comments. I would rate them higher.
Allan Greenwood
Hi: in the roofing business it's hard to find a competent and fair companywho is really interested in doing a good job. Highly recommended. Realpleasure to work with. Well done Alejandro and crew.
P. Delville-Pratt
We enjoyed having all of your employees around despite the usual disruptionof having repairs done to our residence. Everyone was very polite,responsive and professional, and we really enjoyed the coffee.... a 'perk'for the us!!!
Brian White
Navco Roofing was a good find for me. I value their personal service. Theytake interest in their customers and they are very entrepreneurial,unlikesome of their competitors.
Susi Stefanon
Thank you for the quick and professional service done to our roof. Verysatisfied with all work completed.
Testimonial
Eberth has good follow up and the crews were prompt and friendly.
Peter Ngai
I appreciate the after sale services of Navco. We found some dirty spotsbelow the skylight and Navco reprinted them within a few days. Thank youvery much Navco.
G. Mark Callagan
WOW!!! How often can you say that about a roofing job? The guys doing theroof were great and the finished project looks outstanding!
wayne leeson
Awesome new Roof job,very professional,I'll strongly recommend your companyto others. Your price is comparable to any other roofing company. Verysatisfied with your quality work.
Mike deLisser
From the start to the finish....a first class job! It was a pleasureworking with Edgar and his crew. They are true professionals.
Jo-Anne Buckee
Was very pleased with Dan , and his workers, thought they did a very goodjob , so far no complaints .... Felt that Dan did not rush me into anythingand took the time to answer all my questions , sometimes over again till Iunderstood the product I was purchasing .
Carm and Tony D'Alessandro
100% highly recommend this company. Extremely efficient and hard workingmen, that stayed true to there contract.
Testimonial
This comment is referring to gutters not roofing. Just wanted to let youknow how impressed we were with your employees. They worked hard the entiretime they were here and did a great job!
Raven Crest
We selected Navco for the job from among several bidders and we were glad we made the right choice!
Peak Property Management Inc.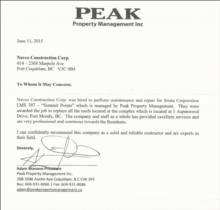 I can confidently recommend this company as a solid and reliable contractor and are experts in their field.
GAF Presidents Club
On behalf of GAF, I would like to personally thank and congratulate Navco Construction Corp. on becoming Canada's first Presidents Club single star award winner...
Deercrest Estates
On behalf of all members of DEERCREST ESTATES, and in particular, all members of the Strata Council, upon completion of the entire re-roofing project, our most sincere THANK YOU, for the entire effort put forward by Edgar Navarro, our main contractor and project Manager, and Ernesto Navarro, who guided and managed the on-site removal, and excellent re-placement of the shingles on all 71 buildings with 158 units, plus Club House and Gate House . . .
Westcoast Consultants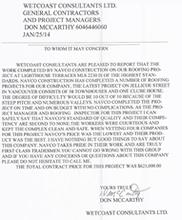 Westcoast Consultants are pleased to report that the work completed by Navco Construction on our roofing project at Lighthouse Terraces MLS 2230 is of the highest standards. Navco Construction has completed a number of roofing projects for our company, the latest project on Jellicoe Street in Vancouver consisti of 58 townhouses and one club house . . .
Maria and Vasile Orhei
We had the roof replaced and the work was done in a very professional manner, with high quality materials (GAF), by a great team that worked long hours to take advantage of the weather. The job was done in 4 days and the GAF inspection confirmed the quality of the work. Time also confirmed this as the roof was replaced in 2013 and we have no problem to report. We had also the gutters replaced last year and again we do not have any complaints. We thank Edgar Navarro for his help and we highly recommend Navco. Thanks again Edgar.
Doug & Rebecca, Port Coquitlam
We want to thank Edgar and his team of professionals for the great job they did putting a new roof on our house. Edgar has a wealth of information and was extremely helpful in guiding us a to an informed decision. The team that worked at our place was friendly, conscientious, and went out of their way to be helpful. We have no hesitation recommending Navco to be the company that can be trusted to do the work that will protect your most important financial investment.
Alex Herdman
We recently had a double layered asphalt roof removed and replaced by Navco Construction Corp. I was super impressed with the whole process; from quotes and professional installation to the finishing details and clean-up.

Navco is a family run company and the three brothers were all involved throughout the two day process of removal and installation. I was also very impressed with the work ethic, agility and the physical strength of the full crew of installers. They worked very long hours during our summer heat spell and the physical effort they exerted (carrying all the bundles up a ladder) then laying the shingles was extra ordinary.

I was also very pleased with the extra precautions Edgar took to protect my newly paved driveway. He protected it by purchasing and laying down a cover of 26 sheets of plywood. I felt this was customer service and property protection well beyond expectations.

We certainly got a very high, quality job at a very reasonable price. I became aware of Navco through personal recommendations from two separate friends. My daughter and son-in-law also had their roof resurfaced by Navco as a result of my recommendations.
Ray Wong
Navco Roofing Co. was referred to us by our neighbours who were very satisfied with their roof. I called for a quote and was met by Edgar who knew his product, used no pressure and was professional regarding his competition. Navco's track record speaks for itself. The quote was bang on, the workers all showed up on time, were professional in appearance and there workmanship and cleanliness around my yard, on my gutters etc was impeccable. Thank you Edgar and crew. I would not hesitate in using Navco Construction for your next job.
Kim & Sue Hollet
Your guys did a great job and I've left your sign up as there are a number of houses on our street that need new roofs. My neighbour - John - across the street had his roof done by you once ours was completed. You've got a great hardworking crew. My wife made them homemade cookies and muffins with coffee each day and they were very appreciative. We will strongly recommend your firm at any gatherings we have during the holidays. Have a great Christmas.
Merlin lancy
Thank you very much for your wonderful service and the price was very reasonable, and edgar is very trustworthy i would highly recommend his company. thank you again edgar
Dianne
Great job and a special thank you for coming all the way to Bowen Island.
Anonymous
Once the job got started - later than expected, the work went well.
Ray Saucy
We're very pleased with our roofing job. We found the crew very polite and respectful and appreciated the attentiveness and attention to details that they provided. Thanks for a job well done!
Dianne
Great job and a special thank you for coming all the way to Bowen Island.
Dave Garnett
All is good, Very happy with the new roof
Don C.
I felt Edgar and his team did an excellent job on my roof. They used top quality materials, along with an excellent shingle in the CertainTeed Landmark Pro product. The finished product is excellent and looks great. Navco did an excellent job, with special attention to detail work to make sure the project was excellent for all aspects. Dave did an excellent job quoting the entire project, with special attention to detail. Ramone and his crew worked tirelessly into the night to complete the project in a reasonable timeframe. I would highly recommend Navco Construction for any project, even the most complicated jobs. The delivery of materials and the delivery of the bin was excellent. These companies took care and had a high respect for my property. Thanks Edgar and your team!
James Goddard
I was very pleased with the quality of the work. They crew worked long hours to get the job done ASAP. The clean up was amazing! I couldn't be happier and I thought the price was very just right. Navco did at least 10 houses in my house area.... I can see why they had so much work . They do a great job.
Joon Shim
Thanks for keeping your promise and completing the work with high quality onschedule before rain started. I'm very satisfied with the new roof. Againthank you very much. I'll definitely refer my neighbors and friends to yourcompany.
Kevin Cahoon
This is my 2nd interaction with Edgar and the team at Navco. I was extremely pleased when Navco replaced my cedar shake roof with an excellent GAF product that looks like Cedar. My roof lines are complex with multiple peaks and valleys and had to be re-sheeted before applying the shingles. The job was performed quickly and professionally, the site cleaned up everyday. Since that time, I was able to refer Navco to two other friends who were more than pleased with the work completed, and again the comments on the clean work site. This summer, circumstances arose, where I required a new roof on another property for a friend. Edgar was prompt to respond and quote, and had the roof completely installed in 10 days. I have no hesitation recommending Navco Construction Corp. for any roofing projects, there pricing is fair, their work is above average, the job sites are cleaned everyday, and in an industry with a poor reputation, this is a rare company where integrity permeates all they do.
Francis Munroe
Overall we found that Navco Construction very good in all respects of removing the old roof and installing the new roof. If there was any problems we had, they were dealt in a very professional manner and quickly.
Keith Grant
We had Navco install a complicated roof with insulation. It took over 3 weeks to complete and they did a wonderful job. The roof looks great. We are sure that it has increased the value of our house by $40,000 to $50,000 dollars which is twice as much as we paid for the roofing. The roofers were very nice to deal with and they did a marvellous job. They should be congratulated. We would recommend this company to anyone looking to replace their roof.
Jim
Just wanted to send you a quick note thanking Navco Construction for the excellent re-roofing job on my house on Waterford. Your crew did super work, attended promptly to any minor items I noted and thoroughly cleaned up the site. I also appreciate that the downspout clean-outs were installed and I will give them a try when the rainy weather returns.

As mentioned, I will be looking to have the house painted later in August and will be sure to give you a call to invite your quote for that work.

Thanks again for a job well done!
Gerry and Eileen
Just a quick note to say how relieved we are to have the new roof in place. With the rains of the last few week the old gutter system would have be backed up and over flowing. I'm glad to say everything is working perfectly. Again thanks to your great crew and to a job well done.
Sukhinder Mayo
They kept the job sight very clean all the time. They did everything in the contract and more.
Rod and Wendy
We had a few estimates on our roof and when Edgar came over he was able to tell us how much right away. He sent a crew of 4, 2 for ours and 2 for our neighbors roof. The guys where fast and professional and completed them in a day and half . Very satisfied with the quality and the workmanship that was done, and left the place very clean. Thanks Edgar .Would highly recommend this company.
Peter & Gisele Nitzschke
Jaimerais remercier Edgar et son quipe pour lexcellent travail quils ont fait sur notre toiture. Lorganisation, la propret et le souci du travail bien fait sont quelques une des qualits que nous avons constates. Toujours de bonne humeur malgr les journes trs longues et les intempries qui rendaient la tche difficile, ils ont russi terminer le travail avec un professionnalisme sans pareil.
Encore un fois, merci Edgar!

I would like to thank Edgar and his team for the excellent job they did on our roof. The organization, cleanliness and pride in a job well done are a few qualities that we found. Always cheerful despite the very long days and bad weather which made the task difficult, they managed to finish the job with professionalism unmatched.
Again, thank you Edgar!
Carol and Rod Archibald
Port Moody, BC
We had been looking for a roof contractor for a few years but had been put off by some of the companies and employees that had done roofing on our block.We saw not only outright rudeness but obnoxious comments to passing women and girls. Plus extremely loud and annoying music. We were pleasantly suprised to watch our neighbors roof being done by an energetic and happy crew who not only cleaned up every day but conductred themselves as professionals. This June was not the best time to do roofing due to the inclement weather but Edgar and crew did their best and the result was an exceptional job and excellent workmanship.We also decided to have the gutters done and Edgar again delivered a timely and outstanding job. Edgar answered every question we had and did not try and avoid the tough ones or delay answering our phone calls.

All in all we would recommend Navco to anyone who wants a company , product and personnel you can trust and rely on.
Claude Laforest
Everything about this company is first rate, from the timely response to my estimate request to the fast efficient and courteous and friendly crew.
John O. Wihksne, North Vancouver
Hi Edgar, I am thoroughly pleased with the Quality of workmanship, the time frame involved [2 days]and the contract was implemented exactly as originally stated, including the pricing. I would recommend Navco to my friends and neighbours without any hesitation. Thanks for a job well done. Yours Truly
Annie Zhang
Navco send 4 guys to install my roof. so the roofing was completed within 3 days, while my neberighter's roofer take about 5 days with 2 installers to finish their roof.
Scott Wallacce
I was very impressed with Navco. Edgar and his crew were professional, reliable and friendly. The crew did a fantastic job on my roof. Navco's price was very competitive and included numerous upgrades to materials and venting not included in their competitor's quotes. I highly recommend Navco.
Sepi Omidi
Edgar and his team are the best. Edgar always showed up on time for our consultation meeting, answered all my questions in detail and never tried to rush me into making a decision. After job started, the crew showed up early and worked all day till sun down. I had to force them to take a break and have a cup of tea. I recommend Navco to anyone looking for roofing professional. Thank you Edgar and thanks to all the guys.
Newsted
Edgar and Ken, supervising the team that worked on our roof, did an amazing job. Our old roof was a cedar roof, so they had to change it over to a fiberglass shingle. Our roof is high pitched and has many valleys. This was a difficult roof. The team arrived on time each day and left the job site clean when they were finished for the day. They worked well together and took pride in their job. Any questions or concerns we had, were dealt with immediately and with professionalism.
Robert Carss -- Maple Ridge B.C.
Like many of us, making the decision to either replace or repair our roof was not an easy one, however after reviewing the pros and cons our decision was to do it the "Right Way" first and replace it as we did not want to get caught needing other potentially costly repairs at the wrong time of the year.

Not knowing who to call, we consulted with friends who had had theirs done and in comparing workmanship etc. Navco Roofing came up as the best overall to approach.
I contacted them for a consultation and the owner Edgar Navarro was pleased to come to my home to review the potential roofing job and make recommendations etc.

Edgar showed up on time and was very professional in his approach to my concerns about undertaking this large project.

In an unhurried manner, Edgar answered all of my questions/concerns and was a wealth of information. It was obvious that he knew his trade.
Other competitors either didn't show up to view the job or return phone calls etc. Prior to final decision making I requested an opportunity to view recently completed roofing jobs which Edgar's crew had completed and he readily agreed to supply sites with similar roofing materials installed.

On reviewing these, they were found to be professional and the look enhanced the homes. Edgar was contacted once again and invited to prepare the necessary paper work etc. to get the project in motion.
From start to finish, Edgar and his crew performed the way you would have always hoped for. All crew worked a full day from start to finish when the sun went down and rarely took a break! Care was taken to safeguard the home and gardens etc. as if it was their own.

All work was commenced and finished as per the original agreement and Edgar was found to be on site on a daily basis to ensure the high standard of quality control was being maintained. They were pleased to accomodate any last minute requests that I may have had. Daily contact with the crew was always a pleasure and it was obvious that they also knew their trade.

If you are considering any type of roofing work, then, look no further, Edgar Navarro and his crew will do it right the first time with the quality second to none!!
Rus & Wendy Moore
Message: The employees of Navco that worked on our roof were a great bunch of workers. They were well organized in their approach, never left the roof in jeopardy to the weather, cleaned up daily and were very courteous. Edgar was very helpful with suggestions and was never far away if needed. Thanks guys for a job well done. I would recommend them whole heartedly.
Wally and Cindy Kwan
"We have just had our shake roof replaced with shingles by Navco and we are very pleased with the job. We found Ed and his crew to be very accomodating and the work was carried out in a professional and orderly manner. The crew left the yard clean of rubble every night and we would not hesitate to recommend them to anyone who is thinking of reroofing their home."

Sincerely,
Wally and Cindy Kwan
Mike and Connie
"We wish to tell you of the good work you and your crew did on our very awkward and complicated roof. You all did a very professional and satisfactory job and we are very happy with the result. You are hardworking and also communicated with us about what you were doing. We wish to extend out thanks to you all and would recommend your work highly to anyone who asked. Thank you for a job well done."
Mark Austria
"If there is something outstanding and worth recommending regarding this company, it is the overall quality of workmanship including the quality of materials they used. The President & CEO Edgar Navarro is highly skilled in his trade, very friendly, sincere and honest in giving estimates, evaluate and recommend the best quality materials, recommend some upgrades to improve the overall outcome and appearance of your roof which is very important. Another important consideration is the speed and knowledgeability of the crew, they are very protective in working with the surroundings including the plants which is also very important.

To sum up everything, this compony is really worth recomending."
C Neill
"I decided to install a GAFF roofing system on my house, I also had 3 light tunnels installed to improve the sun exposure into the darker areas.I find this to be a "green alternative"
I found working with Edgar and his team to be a plesant experience, they installed quality products that makes my house stand out from the rest.I believe that they will warrenty their product and installation should any defects occur.

I got 5 quotes for my roof and gutters, the reason I choose Navco was their competetive pricing, the ability to install a GAFF roof and the working relationship with Navco."
Peter Dudulec
"The quality of work and the customer service I received from Navco exceeded my expectations, Thank you for the job well-done."
Dean Hemmen
"Edgar, I would like to thank you and your crew for a excellent job you did installing a new roof on my house. I like the way you did the roof in sections so the rubble was manageable. Even my neighbors noted the cleanup every day. I also appreciated you went out of your way ( your brother) by helping me repair some of the rotten fascia boards. Being in the construction business I was very happy to see the quality and care your crew gave me. I will definitely recommend you to my friends and neighbors.

Thanks again"
More Comments From Past Clients:
We wish to tell you of the good work you and your crew did on our very awkward and complicated roof.
You all did a very professional and satisfactory job and we are very happy with the result. You are hardworking and also communicated with us about what you were doing.
We wish to extend out thanks to you all and would recommend your work highly to anyone who asked. Thank you for a job well done."
You did an excellent job installing our roof. Even my neighbours noted the cleanup every day. I appreciate you going out of your way for us. I was very happy to see the quality and care your crew gave me.
I will definitely recommend you to my friends and neighbours.
We wish to extend out thanks to you all and would recommend your work highly to anyone who asked. Thank you for a job well done."
Fabulous Work! The roofers had to work in the worst weather but did an excellent job, would recommend them in a flash!
Edgar and his crew were efficient, fast, prompt and polite. We would recommend them to others we know.
Did a good job, roof looks good, cleaned up everything.
Pleasant & friendly, cleaned up well! Good work.
Work done excellent. Very good crew with professional as well as friendly manners (completely opposite from the previous one).
Roof looks good!
The workers were quick and the job was done neat.
They are very good and fast workers & polite. They did a very good job. Thank you very much guys.
Edgar particularly worked hard and fast to complete the roofing after an uncontrollable delay. He is very organized and presentable. I would recommend this team to my friends and anyone who asks for a referral.
Very efficient all in one day!
Very pleased with job well done clean up first class
Workers polite good guys
I have no problem recommending your people to anyone who wants a roof done without ANY worries and nothing but satisfaction. It was a delightful experience, they were polite and very professional. You could not have found better people to represent your company. Thank you.
Roofers very professional.
If you want a quality roofing job at a reasonable and competitive price I highly recommend you talk to Edgar at Navco Roofing.